Heute dürfen wir euch unsere neue Clanseite vorstellen "http://www.hqgamingclan.com".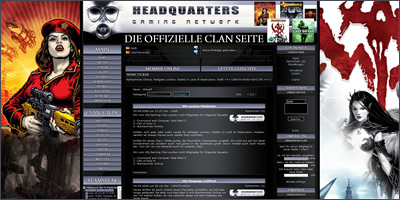 Der HQ Gaming Clan sucht noch Mitglieder für folgende Squads:
1. Command and Conquer: Red Alert 3
2. Call of Duty 4
3. Warhammer Online
[MEHR]
4. Diablo II: Lord of Destruction
5. Hellgate London
Solltet Ihr einen Clan / Gilde suche, die freundlich miteinander umgeht, die nicht nur auf ein Spiel konzentriert ist, sondern auch mal gerne in die Spielkiste greift. Dann meldet euch noch heute bei "Join Us" an und Bewerbt euch für unseren Clan.
Im Prinzip sind alle Willkommen die das 18te Lebensjahr vollendet haben, Fair und vor allen dingen Ehrenhaft Spielen.
Mehr PC, Mac- und Konsolen Spiele-News